click hereto bookmark us (IE users)!
Hello, Tansi, and Welcome!!

Sask Job Search
MBC LIVE
Lottery
Link To This Page
Awards
TV Guide
Sports Scores


Sorry Folk's, Last update was June 2004

Click here to see a Map of La Ronge.

Original Mission Statement: My name is Alex Bird a.k.a Teco, and I am a resident of Northern Saskatchewan. I have been surfing the web for some time now and I have not found any Web sites about our surrounding area that showed just how beautiful our area is. What I propose to do with this site is to show Web surfers how much Northern Saskatchewan has to offer. This site is not only designed for tourists but to people from the La Ronge Area as well. So I hope that this site is very informative to it's viewers and if you have any questions, comments or suggestions please e-mail me at tecobird@hotmail.com or you can just click on the letter image below.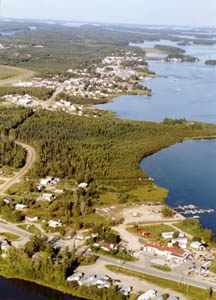 Here is a pic. of La Ronge taken on the Western side of our community. As you can see we are located on the Northwestern side of the Lac La Ronge Lake. Our massive Lake offers a variety of different species of Fish including Northern Pike (Jacks), Walleye (Pickerel), Lake Trout, Whitefish, Perch, Suckers, and Maria. On and around La Ronge there is a series of different fishing camps. One can either boat-in or fly-in, regardless of which choice you take the scenery in unbelievable. Find some of the many Outfitter's on and around La Ronge Lake on the La Ronge Directory.

Here is another image of La Ronge through a satellite image. La Ronge Lake is the hugest body of water directly in the center. The town of La Ronge is located with the black X. Within this image, one could see many of the surrounding lakes thoughout our immediate area. At the very Southern center of this picture is Wapaweka Lake, to the western center of the Lac La Ronge Lake there is Bigstone Lake and Egg Lake and at the Northwest end of this Picture there is Neimeban Lake. All are very beautiful and I would like to get pictures of them this summer (2003).

Surrounding Areas
La Ronge has a lot to offer in terms of scenery. Saskatchewan is not all prairie and I am here to prove it. The North to me is still pure and the majority of all area is untouched by man. We are gifted by many wonders of nature here in Northern Saskatchewan. I consider us to be very fortunate to live in this type of surrounding.
Here is some pic's of the Sand Cliffs.
Here is a picture taken at Turtle River.
Here is a picture taken of Lac La Ronge Lake at sunset.
Here is a few taken at Bigstone Lake at sunset.
Here is a few taken of the Mallard Fire 1999.
Here is what I have been waiting for...... Nistowiak Falls.
Here are few picture's courtesy of Marc L'Heureux Marc's Northern Pic's.
More pic's from the Stanley Mission area.
Very Beautiful Northern Saskatchewan Pictures.
As promised Twin Falls Pictures. (Churchill River)
A new pic of Meemoot Beach along with all the old ones. (La Ronge Lake)
Just in June 1, 2003 Nut Point Pictures. (La Ronge Lake)
Little Stanley on July 9, 2003. Little Stanley Pictures. (Churchill River)
This you have to see. Pictures of the Old Mine Site on the Churchill River, a spectacular picture of the community and the best picture of the Church I have yet. (Churchill River)
July 9, 2003 at Nistowiak Falls - (Churchill River)

Teco at Twin Falls. May Long Weekend 2003.


If you wish to submit a La Ronge site simply e-mail me with the URL (click letter image on top of page). Be sure to also view the internet links, these have been buttonized for easy access (last update in 2000).
La Ronge Directory/Links.                                                        Internet Links
Here is a litte shorter version of my web address, just type in http://tecobird.tripod.com or http://larongeinfo.tripod.com they are a little easier to remember.


Sign My Guestbook
Check Out My Guestbook
UPDATED: 01/20/04